Published June 28th 2006
Rapid lens changes
Why have a camera with interchangeable lenses if you don't change them?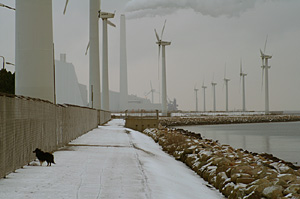 I have two pieces of advice to offer here. One is more radical than the other, so let me take the least radical first.

Personally I detest the fishing/photo type vests, but each his taste. I also dislike the fanny pack type of lens bags that you wear in your belt, but sure they offer the option of fast lens changes. I carry my cameras and lenses in a backpack, and haul out the ones I think I'm going to need.

Then I wear a jacket or trousers, which has sufficient pocket space for my lenses. I have the traditional outdoorsey type of zipoff pants with vertical pockets on the thighs. These can hold fairly large lenses. Not my 100-300 Tokina, but my Minolta 70-210 goes in there quite fine. If I expect to use a lens, I get it out of the backpack and put it in my pocket. When I change, I just slip the previous lens down there or in the opposite pocket.

The other more radical advice is to ignore the dust danger. I personally scatter my glass around me, and typically wind up with lenses -- with or without caps -- on the ground, in my pockets, in my pack and elsewhere.

I remember seeing Danish jazz music photographer Gorm Valentin shooting live music. His spare lenses were on the edge of the scene lined up, lens down, bayonet up with the caps off! Was he fast at changing lenses? You bet yer!

In my opinion too many photographers loose some great opportunities because they need to cap and pack lenses before they start shooting with the newly mounted lens.

Shoot!

And take care of the packing afterwards.