Published July 5th 2006
Minolta 70-210 f/4
A great telezoom. Known as the "beer can"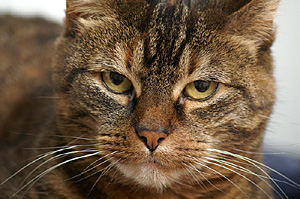 This was my first AF telezoom and I have owned three of them... and still do actually. The first one took a dip in saltwater and never really got over it. The aperture blades started sticking, and in spite of a trip to a pro workshop for cleaning, it started sticking again within weeks. I gave it up and started looking for a new one on the used gear market.
I found one at a good price in Canada and ordered it, and a few days later a Dane put one up for sale at half the price of the Canadian one. I bought both! Unfortunately the Danish one had a lot of fungus on the lens elements. This was the first time I have ever seen that. I guess the lens has been stored in a damp place. The mold can be seen in the highlight on the pictures, but sometimes goes completely unnoticed.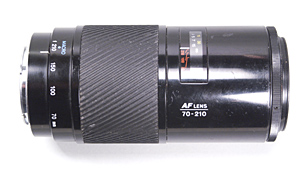 The beer can
The lens has been nicknamed the beer can for as long as I can remember, and for a good reason. Its shape is perfectly cylindrical, and it's rather thick and massive.
Some people consider the weight and the massive feeling of the lens a drawback, but I have always loved the feeling of a good build quality, and this lens excels in that respect. I have only had one other lens with the same feeling, namely the
Minolta 100mm f2
, which was my all time favorite telephoto lens.
The mass seems to stabilize the lens and makes it feel very trustworthy. The zoom and focus operations are really nice, but as mentioned below the focus ring is too narrow, and the age of the lens shows in the AF speed, which can be a bit on the slow side with occasional hunting.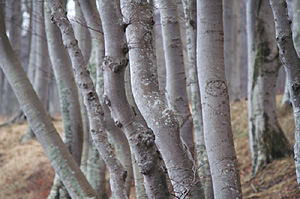 High class
This zoom is usually considered a real gem regarding both the mechanics and the optics. I personally don't like parts of the mechanical construction too much, especially the way too narrow focus ring and the fact that the front element rotates. On the other hand the zoom is fully internal and does not affect the lens dimensions, which I love. It is also very smooth and nice to operate. The general feeling of the lens is one of confidence and a rock-solid construction. I have long forgiven the flaws, and consider the lens is a fantastic photo tool.
It's f/4 all the way through and delivers superb sharpness and good bokeh even at large aperture openings. I have always loved the images that can be taken with this lens.
Links
Dyxum, the Dynax/Maxxum site, has a ton of reviews, almost all purely positive.