Published July 28th 2010
I do books!
Publishing books has never been easier, and I thought I'd have some fun putting my own pictures in books.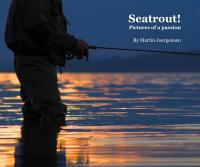 Seatrout! Pictures of a passion.
My second take on a self-published book. The first one was private, but this one is for the whole world to see.
This book was made to capitalize a bit on the huge archive of sea trout fishing pictures that I have shot over the years.
I have been fishing and taking pictures longer than I care to admit.
I do sell pictures to magazines and use a lot of the images on the web site
The Global FlyFisher
, which I created and maintain together with fly fishing friends and with the aide and material from a lot of contributors.
The site has been soooo much fun to run during the last 15 years, but has also cost us a lot of money. Web traffic and server space is not free.
So this book is supposed to make a little money and maybe cover just a bit of these past and future expenses.
Misses
I never delete a picture, which I shot with any of my cameras.
Really... never!
Opposite most photographers I save every missed shot, every test, every blurred smudge and every completely psychedelic exposure. And honestly, quite a few good shots come from that!
So I have decided to collect a bunch of these misses from my photo archive and make them into this odd little book.
Blurb
I have used the online service
Blurb, where you can
download the program Booksmart
--an application that runs on your own computer--and produce books locally.
The software is easy to use, albeit not as powerful as the stand alone Desktop Publishing systems such as Indesign, which I have used quite a bit during my career. But it works, and sets only a few limits on your creativity.
You can produce PDF's and use them in stead. I am currently looking into the open source program
Scribus to see whether it will work for doing books on Blurb. But for now Booksmart will make do.