Published June 6th 2007
How to drown a Canon PowerShot
It is not easy! They are tough cameras these PowerShots. I have tried with freshwater, saltwater and even coffee.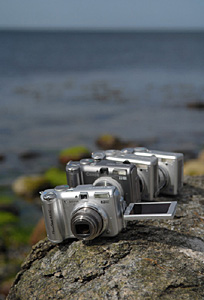 On the picture to the right here you see four Canon PowerShot cameras: in the front it's a brand new PowerShot A630 (a model just removed from the Canon program and sold at ridiculously low prices). That is followed by a PowerShot A620 which again is followed by a couple of PowerShot A80's.

The front one is doing fine while the rest of them are in varying states of decay -- from unstable to absolutely stone dead. The reason that the three older models are dead is that I drowned them, and the reason that the front one is fine, is that I just bought it a couple of days ago and didn't manage to dunk it under... yet.
Insight
You might need a bit of explanation for this slightly mysterious introduction. This is it.
I sometimes get paid to take pictures, and in most cases that is because I take fishing pictures -- in other words: pictures of people fishing. As you probably very well know, fishing is closely connected to water, and water and cameras are two things which combine badly.
When taking pictures of people fishing you often need to be wading in the water next to them. That will mean putting on waders and entering the water. I even do most of my shooting wading in or being close to saltwater, and that only worsens things: salt, sand, waves and rocky bottoms -- all factors that make life as a fishing photographer a dangerous one.
Not to mention life as a fishing photographer's camera.
My assignments as a fishing photographer has over the years cost me four compact P&S cameras, one film SLR, several cell phones and a host of other things. And almost all of my cameras have traces of the wet environs they work in: stains, rust, buttons that fail and other idiosyncrasies.
This article is the story about my beloved Canon PowerShots Point-&-Shoots, their amazing ability to survive and why I keep on buying them.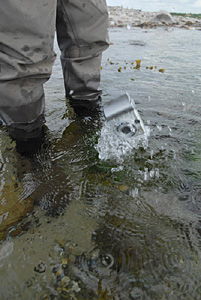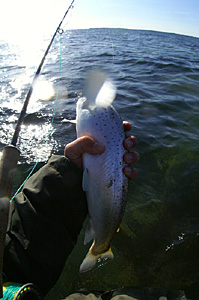 Nikon to Canon
My first digital P&S camera was a
Nikon CoolPix
. This camera actually never drowned, and will still take pictures at its 2 megapixels if I load it with batteries and a CF card. But 2 megapixels were replaced with 4 in the shape of a
Canon PowerShot A80
, which was a significantly better camera in all respects and had some features, which I really love in a P&S.
First off the PowerShots are great cameras that take really nice pictures. They come at a very good price and with a very good feature set offering manual control, exposure compensation (on the flash too), fast operation (not least AF) and the fabulous swing-out LCD, which has just grown better and larger over the years.
My only real complaint about the PowerShots is the dial that selects the program. It tends to turn when the camera is handled roughly like when taking it out of a bag or a pocket. A lock on this dial, and they would be close to perfect. Apart from that the PowerShots are great cameras that have just gotten better with every increment in model number.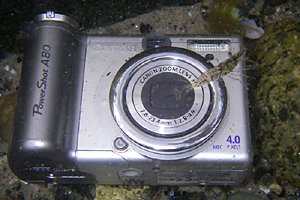 Going under
The reason for writing this article at all is not only commending the Canons on their image quality and speed, but also on their amazing ability to survive drowning.
My A80's have both been under and survived. The first one took a severe dip in saltwater and revived after a day on a radiator. I was leaning forward while bending down to release a fish back in the shallow water, and the camera dropped from my wader's chest pocket. I had a string attached to it and hauled it out immediately in sort of a camera bungee jump.
I immediately took out batteries and memory card and shook the camera as dry as I could. After this I hung it up to dry in a bush and then brought it back to the radiator for further revival. It did survive and managed to shoot very close to 10,000 images before it took its fourth dip and its last breath.
The score
The current standings for my four Canon PowerShot cameras indicating their drowning history and current state.
| | | | | | | | |
| --- | --- | --- | --- | --- | --- | --- | --- |
| | Camera | 1.dip | 2.dip | 3.dip | 4.dip | Fate | Counter |
| | PowerShot A80 | Salt | Fresh | Salt | Salt | Dead | ~9,700 images |
| | PowerShot A80 | Coffee | Salt | Salt | | Working, but no LCD | ~11,000 images |
| | PowerShot A620 | Salt | Salt | | | Working, but partially stuck lens lid | ~5,500 images and counting |
| | PowerShot A630 | | | | | Working | ~3,773 images and counting |
| | PowerShot D10 | Salt | Salt | Salt | Salt...* | Working | ~3,809 images and counting |
* The D10 is waterproof and has been under numerous times - on purpose and not.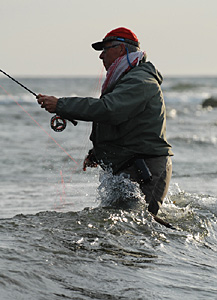 Salty killer
Only one of of its meetings with water was in freshwater, while the first, third and fourth -- and fatal one -- were in saltwater.
The third dip made the contact in the hinged display act strangely. The display would work, but only when it was opened fully, and not when it was closed with the LCD outwards -- the way I most often use these cameras.
The fourth time -- a wave splashing over the camera while shooting from a low stance close to the surface -- was not a full annihilation, but enough to render the camera's LCD totally dead no matter the position. The camera can still take pictures, but you cannot see them before or after the exposure.
A funny thing about the freshwater dip, which was a full dive in a Swedish stream, was that it could take pictures after a few hours in a sunlit window, but they were extremely foggy due to moisture on the inside of the camera I guess. But after 24 hours of drying the damp spot shrunk and finally it disappeared and the camera has taken fine pictures since then.
After this it worked flawlessly without a trace of the incident. Immaculate image quality and all buttons working as they should.
Its last and fatal dip was less dramatic: just a splash of a wave running down the inside of my waders and soaking not only my underwear, but also the camera. It didn't survive that.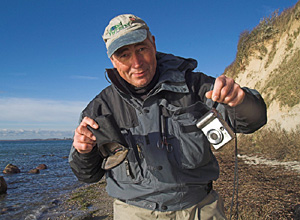 Three times unlucky
My second A80, which I acquired as a replacement for the first one, took three rounds of moisture before it caved in. The first one was a new variation: a leaking thermos with hot coffee soaked the camera while it was in a backpack. It was drained and dried and worked fine after that. Coffee can give us humans a kick, and obviously it also gave my camera a well deserved caffeine-injection because in spite of another salty dip it managed to clock almost 11,000 images before finally dying on a last journey under the surface.
I still find it impressing that this little gem was able to deliver more than 10,000 images in spite of my rough handling, the harsh environment and even the water and coffee.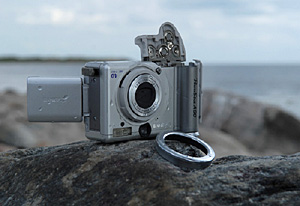 7.1 wet megapixels
I took the jump to a PowerShot A620, at that time the fanciest model in the range with a larger LCD-screen and 7.1 megapixels. I bought it used from a friend who actually bought a real waterproof Pentax Optio. He was tired of sacrificing cameras to the sea gods. The Optio is waterproof, alright, but a lot slower than the Canons and with an inferior feature set and image quality.
My new Canon fared well until a couple of months ago where I was literally in too deep, and a small wave crept over the edge of my waders and found its way to the camera. It wasn't exactly wet, but obviously damp enough to make it fail. It took less than 24 hours indoors to make it work again. And not only that, but the LCD had had a small flaw, showing the image with some fuzziness. This error was completely gone once the camera was dry!
But the trees don't grow into the sky and less than a month ago I was unlucky again, wading too deep and getting soaked. The camera again took its share and died.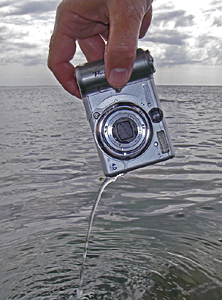 A voice from the grave
It has been dead since until a couple of days ago where I took it to the beach to do some "drowning" camera shots. I loaded all three dead cameras with batteries, and while one A80 was stone dead, the second one shot but with no display and the A620 just booted up and asked me to enter a date!
I turned it off and on a couple of times, and apart from complaining about a missing memory card, the camera was fine. Minutes after it was gone again, and I was unable to get it to do anything.
So yesterday I tried again, but to no avail. The camera didn't respond at all. I blew moist breath into the on/off switch -- a trick I learned to use with one of my old Minolta's which had an exposure button that had taken some drops. The damp air seemed to have a positive influence on the Minolta, and that could have been the case here. But no. There was no response from the Canon.
Until a few hours later where it just turned on as nothing had ever been wrong! As I write this the camera sits on the table right next to my computer and works as well as ever.
A needless - but nice - investment
I other words: My new PowerShot A630 was a needless investment. I thought the A620 was dead and bought the new and improved model. I don't regret that, because the A630 is better than the A620 in many ways. I will prefer this camera over the old and revived one.
And the old one can act as a backup, because judging from the above story, my new and yet untainted A630 will probably see water within the first 5,000 images.
Knock on wood!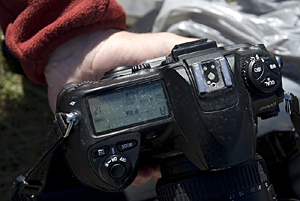 PowerShot D10
As you might have seen in the table above, a real waterproof camera sneaked into the lineup. I finally decided to buy a camera, which is actually designed to be near and in water. The
Canon Powershot D10
is completely waterproof and can take pictures down to 10 meters or 30 ft, which is definitely deeper than I will ever get. I miss having a viewfinder and the shape and color isn't really to my liking (a friend of min suitably calls it the "hand soap"), but it does take excellent images and has performed nicely. I have about 4,500 images shot by the Canon in my current archive, and it keeps on ticking after being in my possession for close to 10 years. As you can see from the numbers, I don't shoot as much as I used to, and only rarely shoots fishing pictures, so I expect this camera to last me many years to come.